Publicerad: 2008-11-18 19:06:39

Det här är en nyhet publicerad på den gamla versionen av Rakaka, nyheten kan därför se lite konstig ut. Om information saknas kan du alltid kontakta oss så kan vi lösa det.
MAGPLASKET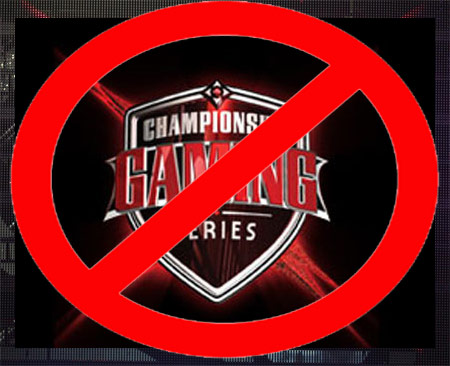 Idag släpps bomben många kanske redan har väntat på - den TV-sända superligan Championship Gaming Series lägger ner efter bara två säsonger, det rapporterar Cadred.org idag.

Det är Cadred.org som har fått tag i ett email från arrangörerna. I det mailet förklarar man bakgrunden till beslutet:
AN IDEA WHOSE TIME CAME TOO EARLY

Today BSkyB, STAR and DIRECTV ended their Championship Gaming Series® (CGS) joint venture.

While the concept was ahead of its time and we are extremely proud of what we've accomplished, it became increasingly clear as this ambitious project evolved, that profitability was too far in the future for us to sustain operations in the interim.

Our goal was to be ahead of the curve in the e-sports space, and conceived of CGS as a true sports league. We invested wholeheartedly in the venture and presented viewers with a top-notch production, but the economics just didn't add up for us at this time.

Our only regret is that we will lose a team of creative and talented individuals who invested their hearts and souls into Championship Gaming Series. We recognize their achievements and thank them for their hard work and passion.

BSkyB, STAR and DIRECTV continue to be committed to the video games sector, which is an important part of many of our customers' lives and a great source of entertainment."
Cadred.org har sen tidigare samarbetat mycket nära med Championship Gaming Series och bör således vara en trovärdig källa.

Det finns ingen officiell information på thecgs.com ännu.

Uppdatering: 19.27
En bild som bekräftar det hela finns just nu på:
http://www.thecgs.com/images/content_images/16405.jpg

Uppdatering 19.32
Ytterligare en bild på CGS-sidan bekräftar nu nedläggningen av "Superligan":
http://www.thecgs.com/ads/540.jpg

Officiellt pressmeddelande på thecgs.com

Källa: cadred.org